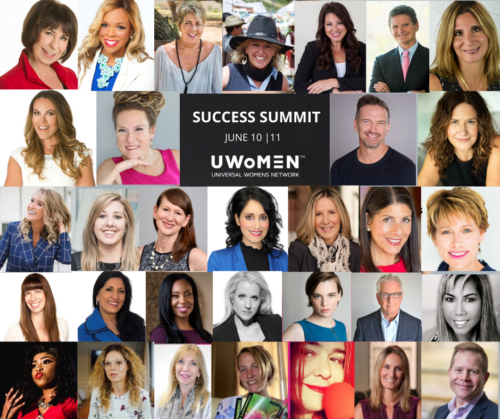 2 Day Success Summit – Founder Says Female Entrepreneurs Critical in Rebuilding Canada's Economy.
May 30, 2020, Calgary, Alta. – The past few months have added extraordinary strain to Canada's economy, particularly for female entrepreneurs and their businesses. With the recent announcement from the federal government regarding allocation of $15 million in funds to support women-owned businesses, it's important that owners build a strategy plan on how to utilize these recovery resources.
To support the government in leading female entrepreneurship resource allocation, the
Universal Womens Network™ (UWN™), is hosting a 2-Day Success Summit.
"Our goal with this Summit and Roundtable is to provide valuable resources from some of Canada's top female entrepreneurs and influencers. This Summit will build valuable connections and strategies for attendee while igniting businesses to allocate their resources properly in building a bright future for recovery," says Monica Kretschmer, Founder and CEO – UWN™ and Women of Inspiration™ (WOI™).
Attendees will connect with Keynote speakers and hear unique insights from industry experts on resilience, business recovery, mental health, negotiation, innovation, motivation, and more, all focused on answering how women-owned business can thrive post-COVID. The Summit will culminate in launching the UWN™ Women-Owned Directory, further connecting and supporting women in business, including offering certification for women-owned companies.
In addition to the Success Summit, UWN™ is further raising the profiles of women entrepreneurs, leaders, and unsung heroes by forging ahead with our 6th Annual Women of InspirationTM Awards. These awards honour hard working everyday women and the men who SupportHER across Canada.
"We are continuing with the 2020 Awards and Gala Ceremony, because now, more thanever, it is crucial that we honour the accomplishments of the women and SupportHERwho inspire us. We must continue to acknowledge the tireless commitment required tobecome a leader and a role model, paving the way for future generations of women inleadership," says Kretschmer.
The WOI™ honours individuals in 25 diverse categories, including Unsung Hero, Innovative Leader, Youth Leader, Mentorship, and Power Partner, an award for men who are champions of women in the gender disparity conversation. Successfully expanding across Canada in 2019, the 2020 Awards Gala in October (Toronto) and November (Calgary) will be a demonstration of just how innovative, resourceful, and inspiring women are. This will be a celebration of achievements, many of which have come as a result of adapting to the changing global economy and way of doing business.
Through the Success Summit and the WOI™ Awards, female entrepreneurs have the opportunity to dig in, refocus, reset, and rebuild a new Canada, full of possibility and opportunity for sustainable businesses.
To register or learn more about the 2-Day Success Summit + Round Table, visit: https://universalwomensnetwork.com/event/support-women-owned/
To nominate a Women of Inspiration™, visit: https://universalwomensnetwork.com/women-inspiration/nominate-2020/
monica@universalwomensnetwork.comuniversalwomensnetwork.com
About Universal Womens NetworkTM
UWN™ is a global platform committed to gender equality by raising the bar to advance women in their networks, communities, and workplaces. We connect, celebrate and recognize women along with men who SupportHER™ to empower women to succeed personally and professionally.